IPVanish VPN Review
Clients
Mac OS, Windows, Linux, iOS, Android
Protocols
OpenSSL library, PPTP, L2TP
Money Back
7 Days Money Back Guarantee
Payment Options
Paypal, Credit Card, Bitcoin
Connections
2 Simultaneous Connections
Best Use
Anonymous Surfing
Filesharing / Bittorrent
Remote Access
Unblocking Video Streaming
Unblocking Websites
Encryption
OpenSSL Library (OpenVPN), MPPE (PPTP), RFC 4835 (L2TP)
Country-List
Southafrica, Romania, Sweden, UK, Croatia, Switzerland, Brasil, Netherlands, Mexico, Australia, Turkey, Norway, Italy, Israel, Malta, Japan, Luxembourg, Indonesia, Slowakia, Russia, France, Argentina, Panama, Portugal, Saudi-Arabia, Malaysia, Kyrgyzstan, China, USA, Iceland, Singapore, Thailand, Czech Republic, Lithuania, India, Germany, Costa Rica, Canada, Ukraine, New Zealand, Hungary, Latvia, South Korea, Poland, Spain, Southafrika, Austria, Denmark, Belgium, Egypt, Bulgaria, Finland
Speedy IPVanish breaks Internet censorship
In theory, the world is getting smaller. You can be sitting in your New York home, but still be watching online, for free, soccer games from the English Premier League or the Spanish La Liga. But, in reality, it does not happen, due to geoblocking.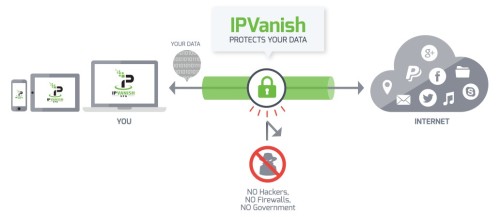 Geoblocking is a form of Internet censorship: a person is denied access to particular web contents because of where he or she is located. A UK sports broadcasting website may block you from watching a game because your request comes from outside the UK.
The good news is that you can bypass geoblocking by using a VPN service. Founded in 2012, IPVanish is a relatively new VPN service provider. It operates a global network of 500+ VPN servers in 60+ countries. To watch that Premier League game, you would connect to a VPN server located in the UK. The website will grant you access because you appear to be coming from within the UK.
If you are tired of watching the English Premier League, switching to the Spanish La Liga is just as easy. Simply disconnect from the UK server, and connect to a VPN server in Spain. IPVanish allows unlimited switching of VPN servers.
Breaking free from censorship is not the only benefit of a VPN service. The other notable benefit is the protection of your online anonymity and privacy. All transmission through the VPN tunnel is encrypted.
Client device support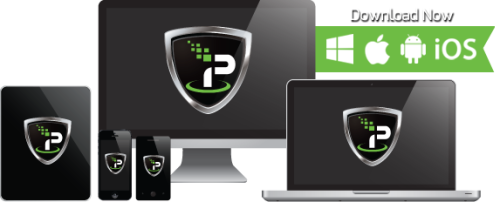 If you are at home, you may watch the games on your laptop or desktop computer. If you are always on the move, you may watch them on your smartphone or tablet. IPVanish supports a variety of client computing platforms. You can download the IPVanish client app for iOS, Android, Mac OS X, and Windows. For other operating systems, e.g., Linux, IPVanish provides instructions on how to manually setup the VPN.
Running the app will configure and connect your device to the VPN. For example, you can configure IPVanish to automatically change your IP address at some regular time interval.
You can simultaneously connect a maximum of five devices to the VPN. This should be enough for all your sports watching requirements. You can be watching at the same time a Premier League game on your laptop, and a La Liga game on your smartphone.
Speed performance
When your favorite team is playing live, the last thing you want is a choppy video to dampen your watching experience. IPVanish is known for its speed. It owns and operates a tier-1 network. In other words, its servers are directly connected to the Internet backbone. As a result, connections are generally faster and more reliable.
Online anonymity and privacy

The IPVanish service is offered by a company registered in Florida, USA, and therefore subject to the laws of the state of Florida. Analyzing the privacy implications given that legal status is beyond the scope of this review.
IPVanish has a no data logging policy. In other words, it does not log what you are doing online. This is a critical privacy requirement. However, no logging does not necessarily entail no monitoring. Its terms of service document specifies a 'representative, non-exhaustive list of acts that are prohibited.' According to the same document, the company has the right to terminate your account if you commit such acts. Based on that document, it is logical to postulate that IPVanish does monitor what you are doing online.
Many VPN service providers lease network infrastructure from third-party vendors. This poses a potential risk to your online privacy and anonymity. In contrast, VPVanish owns and has control over its entire core network infrastructure, thereby mitigating that risk.
Pricing and Payment options

IPVanish's pricing is among the lowest in the VPN market. The price for its 1-year plan is $8.32 ((USD) per month. Before you sign up, you should look for additional discounts as posted on the IPVanish coupons page.
The VPN service comes with a 7-day money-back guarantee. This is a bit short for my liking.
IPVanish accepts all major credit cards as well as Paypal payments. If you are paranoid about protecting your anonymity, you can pay with Bitcoin which you purchase anonymously.
Summary and Conclusion
Pro
Tier-1 VPN network.
Up to 5 simultaneous device connections
Bitcoin and PayPal payments accepted
No data logging
Full control over entire operational infrastructure
Cons
Terms of service implies account monitoring
Relatively short money-back trial period
Go to ipvanish.com