Smart DNS Proxy Review
Money Back
14 Days Free Trial + 30 Days Money Back Guarantee
Prices
$4.90 / 1 Month $12.90 / 3 Months $34.90 / 12 Months $49.90 / 24 Months
Specials
14 Days Free Trial 30 Days Money Back Guarantee
Channels
TNT Drama, Crackle, CWTV, PlayStation Apps (US), Fox Sports, France TV 3 Live Pluzz France TV 3 Live Pluzz, EuroSports Player UK, France TV 5 Live Pluzz France TV 5 Live Pluzz, Facebook, RTE, 4oD, Now TV, Itv, RTLnow, rTVe, Smitsonian Channel Smitsonian Channel, France TV 4 Live Pluzz France TV 4 Live Pluzz, PBS, Hulu, France TV O Live Pluzz France TV O Live Pluzz, SyFy HD, Bravo, AOL On, Rdio, Drama Fever, STV Flow, MGO, Spotify, Fox, HNL GameCenter, France TV, TNT Dallas TNT Dallas, Maxdome, beIN Sports, Turkcell TV, Viki, NBC, VH1, PBS Kids, Amazon Prime Germany, BYUtv, Vevo, MBC, Oprah, Atres Player, TV Land, South Park Studios, SVT Play, Ondemand Korea, Youtube, Cinema Now, HBO, NBC Sports Live Extra NBC Sports Live Extra, TVPlayer, AMC, Nickelodeon, The Daily Show, CNBC, ESPN, MTV, Pandora, Beats Music, Netflix Canada, Bet, Digiturk Play, Ulive, Crunchyroll, Oxygen, Logo TV, Disney Channel, France TV 2 Live Pluzz France TV 2 Live Pluzz, Gulli Repay, CBS, BBC iPlayer, The Loop, Last.fm, tvyo, Sony Music Unlimited Sony Music Unlimited, Alleskino, ABC, FOX Sports, MOG, Masters, FOX News, Starz, A&E TV, Canal Plus, Songza, D-Smart Blu, Epix HD, Premier League Pass Premier League Pass, Twitter, France 4, France TV Pluzz, TF1, Alarabiya, Mitele, Yahoo Screen, History, Radio.com, Lifetime, Amazon Prime, Sky Go, NFL Game Pass), 3DGO, Zattoo, Big Bash, Spike, Netflix, Warner Bros. Television, Showtime, Sports Canada TV, WWE Network, Disney XD, iHeart Radio, Turntable), Tennis Channel
Country-List
Egypt, USA, Hong Kong, Sweden, India, Germany, New Zealand, UAE, Australia, Canada, Japan, UK, Switzerland, France
Devices
iPad, PS Vita, PlayStation 4, Windows 7, Boxee, Amazon Fire TV, Apple TV, Android, Mac OSX, Xbox One, Wii, Routers, Windows Vista, PlayStation 3, Windows 8, Sony Internet TV / Blu-ray Player, iPod, LG Smart TV / Blu-ray Player, iPhone, Google TV, Samsung Smart TV, Xbox 360, Windows XP, Roku, Wii U
SmartDNSProxy makes it easy for you to try risk-free
You are in for a big surprise if you live in the U.S. and you want to watch a sports program on a European website. Likewise, you are traveling in Europe and want to stream a football game from back home. In either case, license restrictions may deny you access to the website, aka geoblocking, because your request comes from a country not approved by the site operator. SmartDNSProxy provides smart DNS service to help you break geoblocking.
With smart DNS technology, a request for censored content is rerouted to the final destination via a proxy server located in an approved country. Access is granted because the request appears to come from an approved location. Despite the presence of the proxy server, the speed performance is still good because, unlike a VPN, smart DNS does not encrypt the data.
Risk-free sign up
SmartDNSProxy offers a 14-day free trial for you to try the service out. What I really like is that you don't have to give them your credit card information to be eligible for a trial.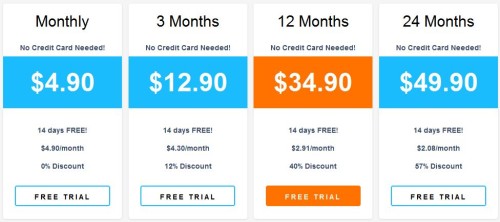 If you like the service, you can subscribe to a paid plan. You can commit for 1, 3, 12, or 24 months. By choosing the 24-month plan, you pay $2.08 (USD) per month. That price is among the lowest in the industry. SmartDNSProxy also has a most generous money-back guarantee; you can get a full refund within 30 days if you don't like the service.
I do have a minor annoyance with the service. Although their website claims that subscribers enjoy unlimited speed and bandwidth, the 'unlimited' notion needs to be understood under the light of the terms of use document. Diligent subscribers should read the document and be aware that SmartDNSProxy 'may impose usage or service limits, suspend services, or block certain kinds of usage in their sole discretion to protect users of the services.'
Easy Setup

You can connect any Internet-enabled device to SmartDNSProxy, for example, smartphones, computers, game consoles, set-top boxes, etc. Setup is quite straight forward, especially if you use the service at a single location. There is no client app to download. You only need to change the DNS server setting for your Internet devices. Instead of changing each device, you can modify the setting on your home router, and all devices connected to it will inherit the setting. SmartDNSProxy provides detailed step-by-step setup instructions for both routers and stand-alone Internet devices.
Besides changing the DNS server setting, you also need to register with SmartDNSProxy the IP address of your Internet devices. For most home users, all your Internet devices share the same IP address assigned to your home router. If you originally sign up for the service from within your home network, the IP address is automatically captured, and you don't need to register again. However, if you change location, you need to register the new IP address on the SmartDNSProxy website.
Does the above sound a little too complicated? Rest assured that SmartDNSProxy provides 7/24 support through both email and live chat.
Channel lineup

The service may be affordable and easy to setup, but if it does not have the channels you like, it is a waste of your money. SmartDNSProxy supports 150+ channels. Sports fans should find the channel lineup appealing. You will find regional sports channels such as BeIN Sports Connect, Star Sports, EuroSports Player, Fox Sports, BBC Sport, SportsNet Canada, Cricket Gateway, Masters, etc. And if 150+ channels are not enough, you can always submit a request to add new channels.
Summary
Pros
Affordable and variable-length subscription plans
14-day free trial (no credit card needed)
30-day money-back guarantee
7/24 email and live chat support
Good variety of sports channels
Cons
Possible usage and service limits
Go to smartdnsproxy.com