VyprVPN Review
Clients
Windows, Mac OS, iOS, Android
Money Back
30 Days Money Back Guarantee
Payment Options
Credit Card, Paypal
Protocols
OpenVPN, PPTP, L2TP, IPSec, Chameleon
Company Location
Switzerland
Best Use
Remote Access
Unblocking Video Streaming
Unblocking Websites
Encryption
128-/ 160-/ 256-Bit
Country-List
Singapore, Sweden, Ireland, Australia, Canada, Iceland, Finland, Hong Kong, Russia, and Vietnam, Denmark, Switzerland, Poland, UK, Turkey, Norway, Romania, Lithuania, Malaysia, Thailand, the Czech Republic, US, Germany, Portugal, South Korea, Luxembourg, France, the Philippines, Japan, Belgium, Italy, Spain, the Netherlands, Austria
VyprVPN: VPN with NAT firewall protection
VyprVPN is a VPN service provider founded in 2009. It is a product of Golden Frog, a Swiss incorporated company.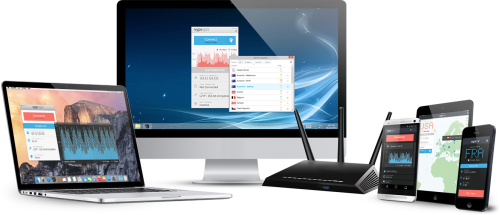 VPNs are used for 2 main purposes. First, to protect one's online privacy and anonymity. All data transmitted via the VPN are encrypted and therefore protected from snooping hackers. In general, to protect your anonymity, VPN service providers have a policy of not logging your online activities. VyprVPN's privacy practice is quite unusual in that the software actually records and retains your activity data for 30 days. This may raise some concerns among the security conscious users.
Second, to break geoblocking. Some websites are designed to block access unless you are located in a target country. This is especially frustrating for sports fans who want to watch a sports program from another country. To break this form of Internet censorship, you connect to a VPN server located in the foreign country. Access is granted because you are masquerading as being from that location.
VyprVPN has deployed VPN servers in 51 countries around the world. It means you can enjoy watching your favorite sports programs from any of those 51 countries.
Go Pro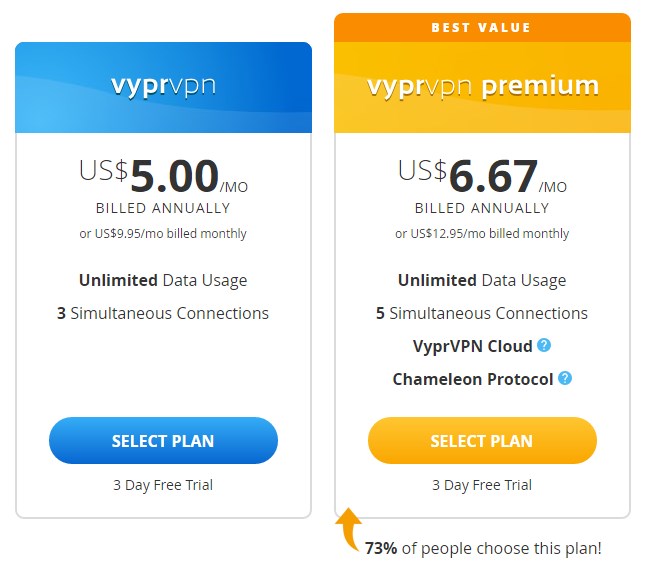 VyprVPN offers 2 subscription plans for non-business use: Basic and Premium.
I don't recommend the Basic plan. Why? It does not support OpenVPN, the most secure VPN protocol today. To get OpenVPN, you need to choose the premium plan.
The VyprVPN premium costs $6.67 (USD) per month if you sign up for a year. This plan comes with 5 simultaneous connections, unlimited data usage, and NAT Firewall. Specifically, you can connect up to 5 Internet devices to the VPN at the same time. For example, you can connect your smartphone, laptop, tablet, PC and even a fifth device simultaneously.
Although the Premium plan claims to allow unlimited data usage, you need to dig into their terms of service agreement to get the full picture. They have a reasonable-use policy which states that 'any customer who puts unreasonable demands upon the service may be curtailed.' What amounts to unreasonable use? 'It is within Golden Frog's sole discretion to determine what comprises unreasonable use.'
A distinguishing VyprVPN feature is the included NAT firewall. When you connect a device to the VPN, it becomes visible to everyone and hence vulnerable to malicious inbound scans by Internet bots. The NAT firewall protects your devices by rejecting all unknown inbound Internet traffic. This provides an extra layer of security against outside attacks on your devices. Few VPN vendors offer this feature, and those who do often charge extra for it.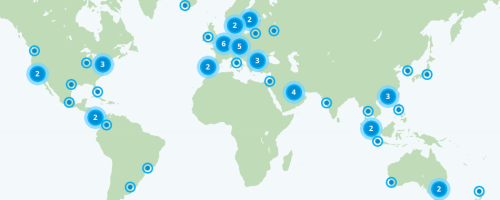 When you sign up for a plan, you must specify a payment method. You can pay using a major credit card or PayPal. Bitcoins and gift cards are not accepted.
Try before you buy VyprVPN
Before you commit to a full year of paid service, it is prudent that you first try out VyprVPN Free, the free version of the product. If sports watching is your main interest for getting VPN, you should verify that you can watch your favorite sports programs before you subscribe to the paid service.
VyprVPN Free gives you a one-time 500-MB data usage for free. Note that it is only available on the iOS, Android and Windows platforms.
Be part of the community
VyprVPN encourages users to participate in the online user community. You can suggest new product features, and vote up (or down) features that others suggested. You can also view or post comments about the product in the user forums. The forums are a great source of information about the problems people are having and whether they have been resolved.
Summary
Pros
NAT firewall feature included (in some plans)
Users are involved in defining product roadmap
Cons
Activity data kept for 30 days
Vague reasonable use policy
Bitcoin and gift card payments are not accepted
Go to vyprvpn.com